Located on the corner of Piedmont Ave and 41st, directly across the street from the Piedmont branch of the Oakland Public Library.
This plaza was the site of the first transit station in the Key Route interurban transport system. The transit station operated from June 1st, 1904, through April 19th, 1958. The Key System served the towns of Oakland, Alameda, Berkeley, El Cerrito, Emeryville, Piedmont, San Leandro, and Richmond. It also had tracks that extended across the lower deck of the Bay Bridge and into San Francisco. During its peak years, the Key System maintained over 66 miles of tracks throughout the Bay Area. Local electric streetcar service was discontinued in 1948, as a part of the general effects of the
Great American Streetcar Scandal
, and the commuter trains to San Francisco were discontinued a decade later in 1958. Many of the main streets in Oakland and Berkeley have, at one time or another, seen rail use.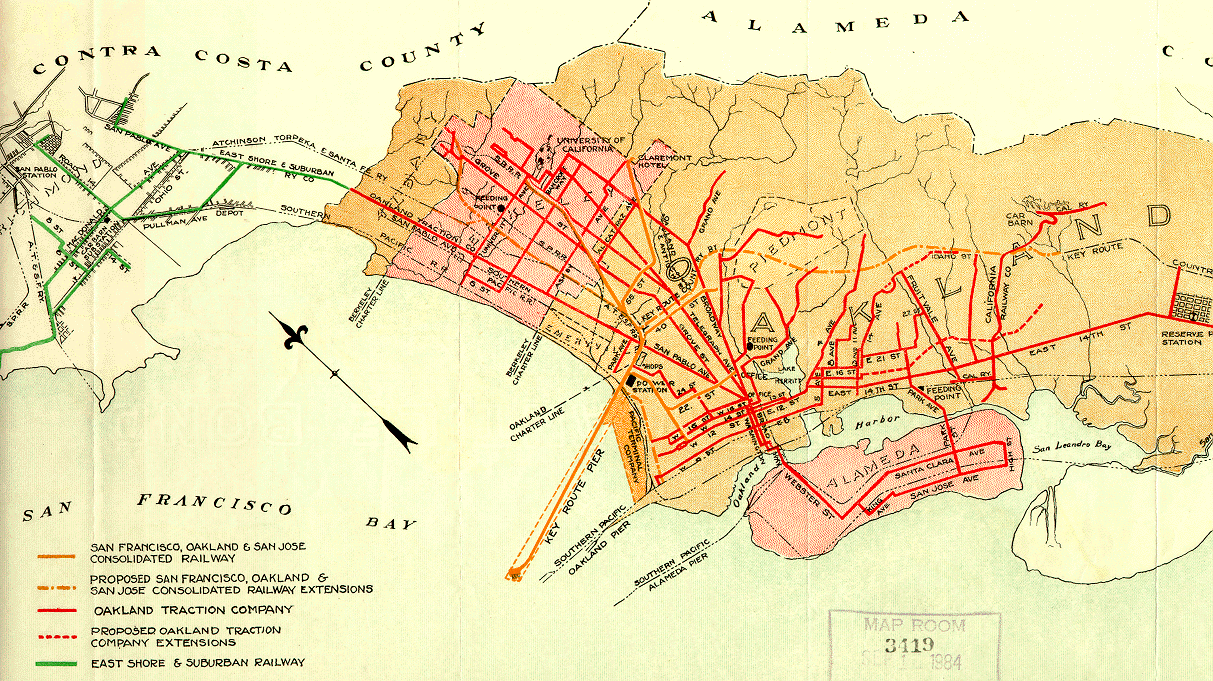 The Key Route Plaza is located on Piedmont Ave., at the corner of 41st St. There's a great mural depicting the history of the Key System, complete with a giant image of the system's developer and chief advocate Francis Marion "Borax" Smith, a borax magnate turned public transit guru. The plaza is located in a fun little corner of Piedmont. Check out the Piedmont branch of the Oakland Public Library across 41st st.

Getting There By Bike...
Piedmont Ave. is a fairly easy ride up towards Key Route Plaza, but it tends to be a little traffic-heavy. Riding up Howes St, one block to the north of Piedmont Ave., is probably a better decision. I would avoid this area on the weekends as there tends to be a lot of shopping traffic.